Zicaffe' Nero Sapore Nespresso Capsule
New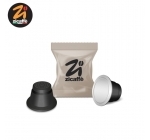 Zicaffe - Zicaffe' Nero Sapore Nespresso Capsule
Zicaffe' brings there best shot to the Nespresso market, a true bold strong Robusta blend worthy of there brand. Nero Sapore capsule is made with the finest coffee beans, wisely blended to give you a full-bodied coffee with a dense and persistent froth.
Packed in paper sachets, Densacrema is very suitable and practical for home or office users.
Daily packing in modified atmosphere guarantees fragrance preservation.
[Size: Nespresso compatible]
This item has been added to your cart! You now have 0 items in your cart.