Kimbo Napoli blend
New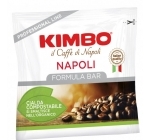 Kimbo - Kimbo Napoli blend
*NEW Package** Resounding with lively flavors to invigorate your spark, this Napoli blend will have you eagerly savoring every sip. Kimbo's Napoli Espresso has been crafted through traditional Italian dark roasting methods and refined to develop its ample flavoring so that the espresso you hold in highest regard can also be your everyday cup.
[Size: ESE 45mm pod]
This item has been added to your cart! You now have 0 items in your cart.