Lucaffe' Pulcinella 24ct ESE Pods in Aroma fresh Tin
New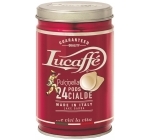 Lucaffè - Lucaffe' Pulcinella 24ct ESE Pods in Aroma fresh Tin
Requested by many customers a pod with no foil Lucaffe has done it!!
Lucaffe Pulcinella 24 ESE packed with no foil in a bulk elegant Tin,
Pulcinella a smooth and velvety body with a nice thick crema and excellent aroma tipical Napoletano style, packed in Nitrogen tin will retain there full aroma a long time.
[Size: 24ct ESE Pods]
This item has been added to your cart! You now have 0 items in your cart.