Shipping
Our flat cost shipping prices are as low as they can get with continued price increases from UPS & USPS almost every year, starts at $3.95 then $5 flat up to $49.99 *FREE SHIPPING ON ORDERS OVER $50 AFTER ANY DISCOUNTS APPLIED FOR THE 48 CONTIGUOUS STATES ONLY.
Orders before 3PM EST ship same day. Unless a last minute item is out of stock you will be notified immediately.
Shipping method is subject to discretion of the shipper based on weight and shipping zone.
**Important** Please leave a note if one of the two shipping options does not deliver to your address.
*All figures are in US Dollars and are subject to change without notice
*Below is a map of distance for UPS ground only (standard shipping) days are in business days, does not count weekends and Holidays.USPS delivers in 2-3 Business days depending on destination delivery.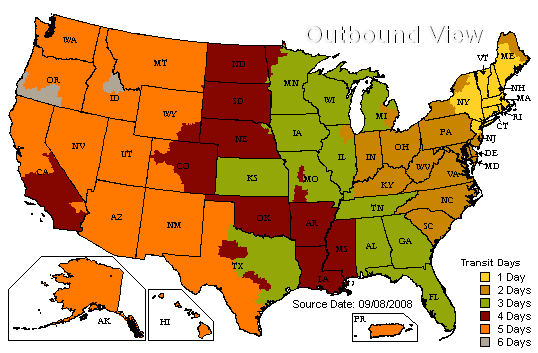 | | | | | | |
| --- | --- | --- | --- | --- | --- |
| Up to $14.99 | $3.95 | $5.95 | $18.95 | $5.95 | $15.95 |
| Up to $49.99 | $5.00 | $11.95 | $39.95 | $9.95 | $47.95 |
| Up to $74.99 | FREE! | $19.95 | $54.95 | $15.95 | $57.95 |
| Up to $150.00 | FREE! | $49.95 | $89.95 | $39.95 | $89.00 |
| Over $300.00 | FREE! | $98.95 | $139.95 | $69.95 | $99.95 |