Kimbo Lungo *Nespresso compatible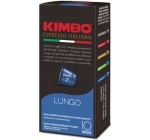 Kimbo - Kimbo Lungo *Nespresso compatible
The 100% Arabica Lungo from Kimbo, as the name suggests, consists of 100% finest Arabica beans. The Arabica beans come from Brazil, Colombia, and Rwanda. These are gently roasted at 200-220°C to develop a particularly mild aroma and low acidity.The capsules should definitely be prepared as so-called 'lungo' (long cup) and not as a short espresso.
[Size: *Nespresso regular Line]
This item is currently out of stock
You will be notified when this item becomes available.
If you would like to be notified when it is available, please enter your email address below.
This item has been added to your cart! You now have 0 items in your cart.