Lavazza *Nespresso Armonico 100% Arabica Capsules
New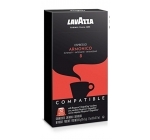 Lavazza - Lavazza *Nespresso Armonico 100% Arabica Capsules
A coffee full of pleasure with enveloping notes of roasted cereals and caramel, comes from the blending of 100% original South American Arabica. Aromatic notes of hazelnut and chocolate combine with the harmony and sweetness of 100% Arabica beans for a full-bodied and *Nespresso and Nespresso OriginalLine are trademarks of a third party without any link with Espressotiamowell-rounded coffee.
[Size: Nespresso regular line compatible]
This item is currently out of stock
You will be notified when this item becomes available.
If you would like to be notified when it is available, please enter your email address below.
This item has been added to your cart! You now have 0 items in your cart.