Caffe Pera "Crema Bar" Nespresso Capsules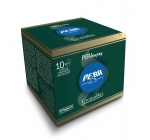 Caffe Pera - Caffe Pera "Crema Bar" Nespresso Capsules
Capsules ORO – *Nespresso® Compatible Crema Bar
The Crema Bar blend, in capsules.
Blend: 30% Arabica 70% Robusta
A rich full-bodied cup with strong sensations, sweet, with light spicy nuances.
The aftertaste is full with a persistent aroma of coffee and notes of cocoa.
Compatibility

Caffè Pera coffee capsules are compatible with Nespresso®* Citiz, Pixie, Essenza, Lattissima & Maestria coffee machines for home use.
*Nespresso® is a registered trademark of Societe des Produits Nestle S.A. The trademark is not the property of Caffè Pera S.p.A. or other connected companies or resellers.
[Size: Nespresso type]
This item has been added to your cart! You now have 0 items in your cart.