Barbera Espresso Point Capsules
New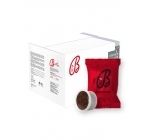 Barbera - Barbera Espresso Point Capsules
***SALE PRICE IS AT 50% OFF BECAUSE ITEM HAS EXPIRED*** "Espresso" capsule compatible with Lavazza Point® coffee machines is a blend made from fragrant Robusta coffees and from soft, aromatic, Arabica coffees.Determined rich tasting, with excellent body and an aroma with pleasent hazelnut and honey notes, it leaves a full, lively, long-lasting aftertaste.The "Espresso" capsule contains a particular grind to obtain an intense, full bodied, soft, rounded espresso, with abundant consistent crema.
[Size: Point Capsule]
This item has been added to your cart! You now have 0 items in your cart.