Barbera 6th Generation Espresso Lungo Nespresso compatibles
New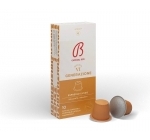 Barbera - Barbera 6th Generation Espresso Lungo Nespresso compatibles
This blend is particularly light-coloured, from slow roasting with the traditional method, highlighting sweeter aromatic notes, giving it a rich, elegant aroma. The coffee has a balanced taste, with medium-high acidity, where cinnamon, vanilla and floral aromas stand out, with a pleasant, clear, long-lasting aftertaste.
[Size: Nespresso Original Line compatibles]
This item has been added to your cart! You now have 0 items in your cart.