Barbera Moka Classico 250g ground
New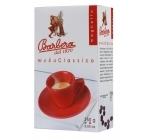 Barbera - Barbera Moka Classico 250g ground
"Mokaclassico" stands out for its intense, full Robusta coffees blended with prized Arabica coffees to obtain a full-bodied, sweet cup of coffee suitable for every palate.Taste is vigorous and full, with a rich, complex aroma, pleasant nuances of roasted and other delicate notes.Aftertaste is lively and long-lasting.
[Size: 250g. (8.8oz.) ground]
This item has been added to your cart! You now have 0 items in your cart.