Zicaffe Aromatica
New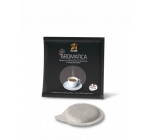 Zicaffe - Zicaffe Aromatica
Aromatica is a blend of the finest Arabica beans which are combined with some selected Robusta. The perfectly balanced blend results in a coffee with a velvety crema, an intense aroma, a strong taste, a hint of spicy notes and a rich chocolate aftertaste.
[Size: 45mm ESE Pod]
This item has been added to your cart! You now have 0 items in your cart.