Lucaffe' "Jamaican Blue Mountain" espresso pods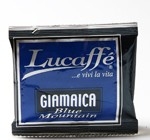 Lucaffè - Lucaffe' "Jamaican Blue Mountain" espresso pods
This is the most prestigious coffee in the world. Before being roasted, its beans are green-blue color, shipped in small wooden drums. It is produced at a height of 2000m on the island of Jamaica. Its body, aroma, scent, and acidity are all perfectly balanced and the long lasting flavor that develops on the palate is something to experience.Available in dispenser boxes of 18 or 50 pods.
[Size: E.S.E. 45mm pod]
This item has been added to your cart! You now have 0 items in your cart.