Lavazza "Gran Espresso" Pods
New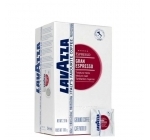 Lavazza - Lavazza "Gran Espresso" Pods
Lavazza blend Gran Espresso is very similar to the Gran Crema dark Blue packet except it is medium roast a tiny bit lighter in strenght and not as dark crema. Keep in mind it can vary depending on what type of espresso machine you use, best extraction would come with an ESE Pod only type or the LaPiccola machines we import from Italy.
[Size: ESE 45mm Pods]
This item has been added to your cart! You now have 0 items in your cart.