Urnex Dezcal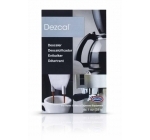 Urnex - Urnex Dezcal
Coffee and Espresso Machine Descaling Powder
Dezcal™ is a citric acid based, non-toxic, biodegradable and safe descaler that breaks down lime scale and calcium deposits. Dezcal™ is safe and easy to use – it's as simple as brewing a cup of coffee. Each box contains 4 packets of descaler.Designed for any type of espresso or coffee machine brewers.
[Size: 1 Box 4 packets]
This item is currently out of stock
You will be notified when this item becomes available.
If you would like to be notified when it is available, please enter your email address below.
This item has been added to your cart! You now have 0 items in your cart.