Urnex Cleancaf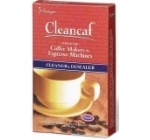 Urnex - Urnex Cleancaf
Cleancaf Brand Cleaner is an essential component to maintaining great tasting coffee at home. Cleancaf® is designed to remove flavor-tainting stale coffee oil residue from home machines. Its dual action formula also prevents the accumulation of scale deposits which are responsible for slow brew times and machine malfunctions. Portion packaged for easy use, Cleancaf also contains a blue-dye which helps to insure proper rinsing.
[Size: 1 Box (3 packets)]
This item is currently out of stock
You will be notified when this item becomes available.
If you would like to be notified when it is available, please enter your email address below.
This item has been added to your cart! You now have 0 items in your cart.