Lucaffe' Espresso shot glass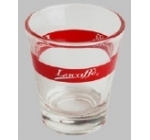 Lucaffè - Lucaffe' Espresso shot glass
Lucaffe' logo on a nice commercial shot glass, new look of the millenium using glass shots so you can see the rich color and crema. price is for shot glass alone ,does not come with saucer.
[Size: 3" Tall]
This item is currently out of stock
You will be notified when this item becomes available.
If you would like to be notified when it is available, please enter your email address below.
This item has been added to your cart! You now have 0 items in your cart.