Barbera Miscela Del Fondatore Nespresso Compatible
New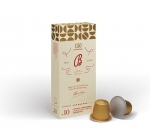 Barbera - Barbera Miscela Del Fondatore Nespresso Compatible
The Fondatore capsule blend is named after the founder, Domenico Barbera, historically handed down from generation to generation over centuries. The idea was born with the aim of reviving a special, top quality product, using an ancient recipe made from coffees coming from the most renowned plantations in the best coffee producing areas around the world. The Fondatore blend is characterized by a rich, intense aromatic bouquet with elegant notes of honey, nuts and chocolate.
[Size: Nespresso Original Line]
This item has been added to your cart! You now have 0 items in your cart.