Lucaffe' "Pulcinella" Energy Drink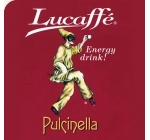 Lucaffè - Lucaffe' "Pulcinella" Energy Drink
Lucaffe Pulcinella nick named "The Energy Drink" with double the caffeine in most of there Arabica blends. A true Napoletano blend we love it a nice taste not too strong and excellent crema. One of our top choices.Available in dispenser boxes of 18, 50 or wholesale case of 150 pods.
[Size: E.S.E. 45mm pod]
This item has been added to your cart! You now have 0 items in your cart.