Barbera Maghetto White packet Espresso ESE Pods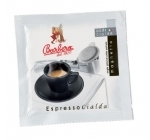 Barbera - Barbera Maghetto White packet Espresso ESE Pods
Espresso Maghetto this blend is constituted by valuable sweet Arabica qualities and Robusta full-bodied coffees.They together originate a copious and velveted potion,which has a full-bodied and complete taste.The fragrances and the pleasantly durable after-taste, areassured by an intense and slow roasting.The white packet very similar to the Black packet only we would consider this a medium roast where the Black packet is stronger.
[Size: E.S.E. 45mm pod]
This item has been added to your cart! You now have 0 items in your cart.