Zicaffe Cialda Densacrema Superior espresso pods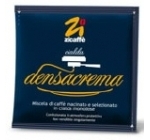 Zicaffe - Zicaffe Cialda Densacrema Superior espresso pods
Blended with an appreciable percentage of Arabica. This blend gives the espresso a full-bodied taste and dense, permanent froth. *Our thickest crema made from a pod! A true espresso shot made at home butlooks like it came from the espresso bar!
Cremadensa blend is made with the finest Arabica green coffees and a part of Indian Robusta, which have been wisely selected, blended and roasted to give an espresso with an intense aroma and a pleasant taste, with a dense, homogeneous and persistent froth.
[Size: E.S.E. 45mm pod]
This item has been added to your cart! You now have 0 items in your cart.