Izzo Feeling Arabians ESE Pods
New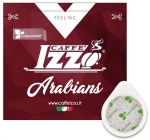 Izzo - Izzo Feeling Arabians ESE Pods
The 'Arabians' is a dark roasted blend producing a medium/strong, highly aromatic brew derived from Ethiopian arabicas (95%) with a subtle addition of robusta producing hints of orange blossom, jasmine and cocoa. Roasted by a small Neapolitan company with attention to quality and flavour.
[Size: ESE 45mm]
This item is currently out of stock
You will be notified when this item becomes available.
If you would like to be notified when it is available, please enter your email address below.
This item has been added to your cart! You now have 0 items in your cart.