Molinari Gourmet "India" espresso pods
New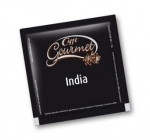 Molinari - Molinari Gourmet "India" espresso pods
Molinari India Coffee Pods is made of 100% Robusta single origin coffee from India offer a tough and clean flavor, intensely aromatic, leaving a fullness feeling for strong coffee lovers. Flavor notes: Strong, cocoa, tobacco, smoke, woody.
[Size: 45mm ESE pods]
This item is currently out of stock
You will be notified when this item becomes available.
If you would like to be notified when it is available, please enter your email address below.
This item has been added to your cart! You now have 0 items in your cart.