Molinari Gourmet "India" espresso pods
New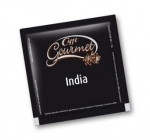 Molinari - Molinari Gourmet "India" espresso pods
Molinari India Coffee Pods is made of 100% Robusta single origin coffee from India offer a tough and clean flavor, intensely aromatic, leaving a fullness feeling for strong coffee lovers. Flavor notes: Strong, cocoa, tobacco, smoke, woody.
[Size: 45mm ESE pods]
This item has been added to your cart! You now have 0 items in your cart.