Barbera Superior Black Packet espresso pods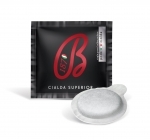 Barbera - Barbera Superior Black Packet espresso pods
Probably the best coffee blend in the world. Seven different types of pure selected coffee beans, singularly roasted to its best and blended wisely. Also our richest pod with almost an extra gram of espresso coffee per pod at 7.7 grams compared to the regular normal size of 7 grams.
[Size: 45mm size ESE pods]
This item has been added to your cart! You now have 0 items in your cart.