Barbera 1st Generation (Old Black Packet) Espresso ESE Pods
New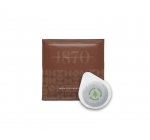 Barbera - Barbera 1st Generation (Old Black Packet) Espresso ESE Pods
This is a blend with an intense, rich aroma and a sweet, well-balanced taste. It is characterized by aromatic notes of cereals, almond and chocolate. The coffee is very creamy and full-bodied, with low acidity and a persistent, pleasant aftertaste. A dark roasting ensures a good, strong espresso.
[Size: 45mm size ESE pods]
This item has been added to your cart! You now have 0 items in your cart.