Barbera Sencaf Decaf espresso pods
New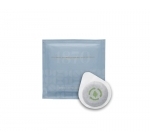 Barbera - Barbera Sencaf Decaf espresso pods
"Sencaf" is a blend of prestigious Arabica and Robusta coffees, decaffeinated delicately to maintain the unmistakable aroma, and ground to obtain the traditional Italian coffee with its intense smell and full taste.
The fragrance of vanilla, toasted cereals and licorice can be smelt in the aroma.
[Size: E.S.E. 45mm pod]
This item has been added to your cart! You now have 0 items in your cart.