Compagnia Dell'Arabica Organic 100% Arabica
New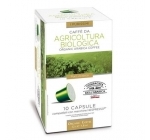 Compagnia Dell Arabica - Compagnia Dell'Arabica Organic 100% Arabica
The best quality of pure Arabica from organic farming. This coffee comes exclusively from certified plantations, where smallholders cultivating it for generations in a natural way and without the use of chemical fertilizers. Resorting to organic farming knowledge, farmers are running a mixed plantation with shade trees and fruit (bananas, pineapples, papaya ...), thus maintaining clean the soil and respecting the natural cycles of the earth. To rediscover the natural flavor and fragrance of a unique coffee, soft taste and a soft and fragrant.
[Size: Nespresso compatible]
This item is currently out of stock
You will be notified when this item becomes available.
If you would like to be notified when it is available, please enter your email address below.
This item has been added to your cart! You now have 0 items in your cart.