Molinari Platino whole beans
New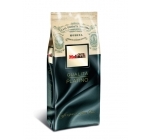 Molinari - Molinari Platino whole beans
"The firm of ""Giuseppe Molinari"" born in 1804 in Modena Italy, becoming suppliers to the House of Savoy in 1880. Modena, a lively city in the Po Valley, is where the family set up the Bar Molinari in the Via Emilia in the heart of the city in 1911 passing into history as the most modern ""bar"", abandoning the old eighteenth-century word for coffee.
Investing in research and new packaging technology is continuous, looking for excellence in quality that allows Caffè Molinari to be appreciated in Italy and abroad. Freshness and constancy is achieved by the method of mixture selection, roasting and the packaging.
For this each procedure is cared for in every detail:Each individual raw coffee lot is analysed for its chemical and organoleptic components; then cleaned and sieved in dedicated silos. The mixtures are made up of 5 different qualities of coffee and are roasted and packaged in Modified Atmosphere in less than 8 hours. Packaging is leading edge, the beans are allowed to mature properly and the result is a coffee with long term aroma.
[Size: 1Kg. Bag (2.2lb)]
This item has been added to your cart! You now have 0 items in your cart.