Danesi "Gold" ground espresso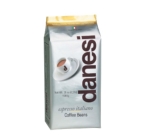 Danesi - Danesi "Gold" ground espresso
(250g. Vaccummed pack) A blend characterised by a perfect and harmonious combination of Arabica Coffee from Central and South America, specifically studied to confer the product an overwhelming smoothness, sweetness, fine aroma and intense flavour, featuring delicate notes of lemon and chocolate.
[Size: 250g (8.8oz)]
This item has been added to your cart! You now have 0 items in your cart.