Danesi Classic 250g. Ground packet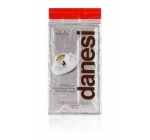 Danesi - Danesi Classic 250g. Ground packet
Danesi Classic is a espresso coffee blend composed by Arabica's finest organoleptic characteristics masterly amalgamated with the intensity of the best African Robusta, which give greater body and unity to the cup. Danesi (est. 1905) is a leading brand of espresso in Italy. Danesi Caffe' signifies history, tradition, and quality. Over the past 100 years, Danesi has made the unmistakable taste of its numerous blends popular in Italy and around the world. Their popularity is due to their consistent care and attention to the various coffee processing phases. Danesi relies on increasingly sophisticated technology in production, resulting in continuous growth and improvement in their coffees. They process espresso with the same care and passion that they did 100 years ago.
[Size: 250g. Packet]
This item has been added to your cart! You now have 0 items in your cart.