Lucaffe 100% Arabica 22ct ESE espresso pods in Tin
New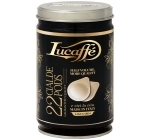 Lucaffè - Lucaffe 100% Arabica 22ct ESE espresso pods in Tin
Requested by many customers a pod without foil Lucaffe has done it!
**1 Tin sale price is promotional for now**
Lucaffe 100% Arabica a blend from South America, Asia and Africa. With a mild taste and full body, pleasant aroma. Now in an elegant Nitrogen packed tin each pod with NO foil. Tin has removable cover and can be stored in a cool area or fridge.
[Size: 22ct ESE]
This item has been added to your cart! You now have 0 items in your cart.