EL Tostador Intenso ESE espresso pods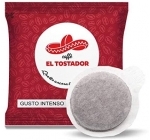 El Tostador - EL Tostador Intenso ESE espresso pods
***NOTE BECAUSE THE ORIGINAL BOX IS LARGEST OF ANY BRAND IF YOU PURCHASE 2 OR MORE CASE CONTENTS WILL BE DUMPED IN 1 SINGLE BOX*** El Tostador's latest new ESE pods made from 90% Robusta blend and 10% Arabica, for those who need the full bold caffeine experience this is the strongets we have ever incountered, reminds us of the old Starbucks paper pods. El Tostador still uses the old fashion wood burning roaster so you get the nutty wood flavor in there products. If we had a Level 6 on our strength chart it defenitely deserves it!
[Size: 45mm ESE pods]
This item has been added to your cart! You now have 0 items in your cart.