El Tostador 100% Arabica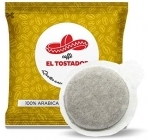 El Tostador - El Tostador 100% Arabica
El Tostador old fashion real Neopolitan style espresso blend roasted in a wood fired oven! This is there 100% Arabica blend nice mellow and smooth taste and still has that nutty fire wood roasted Napoletano flavor.
[Size: 45mm ESE size Pod]
This item has been added to your cart! You now have 0 items in your cart.