El Tostador "Classico"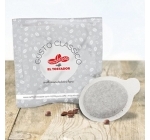 El Tostador - El Tostador "Classico"
El Tostador old fashion real Neopolitan style espresso blend roasted in a wood fired oven! There Classico blend has a nutty taste with a medium to dark roast. If you like a stronger shot try there Forte blend.
[Size: 45mm ESE pod]
This item is currently out of stock
You will be notified when this item becomes available.
If you would like to be notified when it is available, please enter your email address below.
This item has been added to your cart! You now have 0 items in your cart.