iSiciliani Almond Torrone Block 300g.
New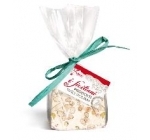 I Siciliani - iSiciliani Almond Torrone Block 300g.
Torrone is an Italian tradition for weddings and Holidays but actualy eaten any time of the year. This block is loaded with Almonds and comes in a 300g. (10.5oz.)  Block. Ingredients are Almonds , Pistachio's sugar syrup, honey, sugar, glucose syrup, egg white, natural flavorings and vanilla. I Siciliani Torrone best there is from Italy, made with their own grown Almonds. NO PRESERVATIVES & GLUTEN FREE!
[Size: 300g. ]
This item is currently out of stock
You will be notified when this item becomes available.
If you would like to be notified when it is available, please enter your email address below.
This item has been added to your cart! You now have 0 items in your cart.