*Lucapsule 100% Arabica DECAF Nespresso compatible Capsules Bio
New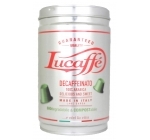 Lucaffè - *Lucapsule 100% Arabica DECAF Nespresso compatible Capsules Bio
Lucaffe' finally packing there blends in *Nespresso compatible capsules this is the first blend to come out and it is fantastic! This Decaf blend from the 100% Arabica selection probably the ONLY 100% Arabica in Decaf available on the market so smooth you can't even realize it's Decaf! GianLuca Venturelli owner and founder has always been against plastic with years of research has finally developed a Biodegradable capsule that can be tossed in the trash, they also created the worlds first capsules sealed in a Tin that not only can be recycled but is Nitrogen filled and seals all the aroma and flavor within. ( can't get that with any other brand) Most of there blends are high in Arabica so many Robusta lovers will find this to be not as strong.
[Size: Nespresso compatible regular Line only]
This item has been added to your cart! You now have 0 items in your cart.