Lavazza Decaffeinato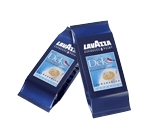 Lavazza - Lavazza Decaffeinato
**ATTENTION THESE WILL ONLY WORK ON A LAVAZZA POINT MACHINES** For too may coffee lovers around the world, the word "decaf" has become synonymous with weak or watered-down, a difficult compromise for may espresso aficionados. Lavazza knew there had to be a better solution. So Espresso Decaffeinato was developed, a 100% Arabica blend of sweet Brazilian coffees and Colombian aromatic flavors, carefully decaffeinated through a natural-water process. Espresso Decaffeinato is essential to a well-stocked coffee bar.
[Size: Point Capsule]
This item has been added to your cart! You now have 0 items in your cart.