Lavazza Aroma Club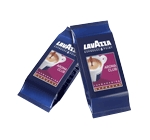 Lavazza - Lavazza Aroma Club
**ATTENTION THESE WILL ONLY WORK ON A LAVAZZA POINT TYPE MACHINES** Crema is the creamy froth that graces a perfect cup of Italian espresso. The crema not only adds to espresso's exquisite taste and texture, it is a soft blanket that helps to hold the brew's enticing aroma and flavor. A blend of the finest African coffees and Arabica from Central America and Brazil, Creama & Aroma is intense and strong, well-rounded and flavorful. Because of its special grind, it can be used to make Espresso Lungo or long coffee, a large cup of espresso brewed with more water.
[Size: Point Capsules]
This item has been added to your cart! You now have 0 items in your cart.