Kimbo Napoli *Nespresso Compatible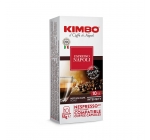 Kimbo - Kimbo Napoli *Nespresso Compatible
imbo Espresso Napoli Nespresso Capsules A selection of premium Arabica coffee beans from Central and South America and the finest Robusta beans from Asia. A well-balanced, full-bodied, sweet coffee with aromas of pleasant floral notes and fresh baked biscuits.

[Size: *Nespresso Capsule]
This item has been added to your cart! You now have 0 items in your cart.