Izzo Gran Espresso Nespresso Compatibles
New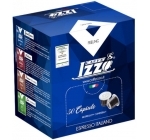 Izzo - Izzo Gran Espresso Nespresso Compatibles
The blend used for the coffee pod provides an excellent espresso,aromatic with a sweet taste and nice crema.Dark roasted blend of Arabica and Robusta producing a medium/strong, full flavoured and slightly earthy espresso - 92% Arabica 8% Robusta.
[Size: Nespresso regular Line]
This item has been added to your cart! You now have 0 items in your cart.