Barbera Decaf Nespresso compatibles
New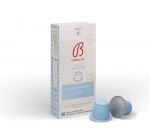 Barbera - Barbera Decaf Nespresso compatibles
The Decaffeinated "Sencaf" capsule compatible with Nespresso®* coffee machines is a blend of prized Arabica and Robusta coffees, decaffeinated in a delicate way, offering the unmistakable  aroma of a bar served coffee. The beans are ground to obtain a traditional creamy Italian espresso, with an intense smell and full-bodied taste.
[Size: Nespresso Regular Line compatibles]
This item has been added to your cart! You now have 0 items in your cart.