Barbera Decaf Nespresso compatibles
New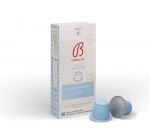 Barbera - Barbera Decaf Nespresso compatibles
The Decaffeinated "Sencaf" capsule compatible with Nespresso®* coffee machines is a blend of prized Arabica and Robusta coffees, decaffeinated in a delicate way, offering the unmistakable  aroma of a bar served coffee. The beans are ground to obtain a traditional creamy Italian espresso, with an intense smell and full-bodied taste.
[Size: Nespresso Regular Line compatibles]
This item is currently out of stock
You will be notified when this item becomes available.
If you would like to be notified when it is available, please enter your email address below.
This item has been added to your cart! You now have 0 items in your cart.