LaPiccola Piccola Piccola "Perla" ESE Pod Machine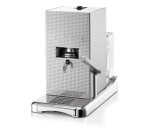 LaPiccola - LaPiccola Piccola Piccola "Perla" ESE Pod Machine
Retail $649.95, our price $589.95 Piccola Piccola model (no steam) **Full stainless is all stainless steel finish. This model is unique as there is no plastic involved, the water tank is heavy glass that hooks on the back. (Perla version has Diamond shape engraved in the metal finish.)  Comes with 18 Lucaffe' Classic & 18 Lucaffe' Mr. Exclusive 100% Arabica pods FREE. LaPiccola made in Italy with a full steel body and hand crafted in Italy this pod only machine will extract the most out of any pod used, not like most pump driven espresso machines that can do both ground espresso and ESE pods by using an insert that then allows space around the pod this machine was made to hold tight the pod and extract as much espresso brew through it this resulting in a almost identical espresso shot to the real Italian Bar type. *( pods vary depending on brands and blends) Currently the quality espresso machine with the smallest footprint on the market. Ideal to take with you when travelling (camper, boat etc.). Instead of a drip-tray it has a trough under the grille which is easy to clean by simply wiping it with a sponge. It is produced with special steel, that make this machine eternal.The espresso coffee extracted has the same quality as with our other professional pod machines. It has very low energy consumption. It can be connected to a tank, even a large one, for water intake, and to a drainage tank, so as to be able to prepare coffee non-stop with the smallest possible footprint.The handy pull-out drip tray makes cleaning easier.
***NOTE LaPiccola brand has created a Silver boiler and silver spout for your health. All models shown have a brass boiler NOT silver, the Silver boiler selection is noted and priced***
Machine specs.Depth 12in/ W6in/ tall 11in
[Size: 44mm ESE Pods only]
This item has been added to your cart! You now have 0 items in your cart.