Speed 2 Group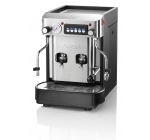 LaPiccola - Speed 2 Group
Retails $3,700 order online for $2,995 Speed model is basically a 2 Group Cecilia in a 1 group body to keep size down on the counter top, keep in mind this model comes only in 220Volts Unique with a professional 3.5 boiler all in stainless steel this has auto buttons for espresso both sides. Professional steam wand for your cappuccino, espresso, hot chocolate and latte's, with energy savings of 70% compared to a traditional commercial unit. For more info on this company and there products go to> www.lapiccola.it (This machines needs to be pre-ordered allow 6-8 weeks, call us for more info.) Height 42cm Width 42cm Depth 52.5 cm Weight 36kg (80 pounds) Power Supply 230V~ 50Hz Power 2700W Tank 5 Liter Safety Thermostat Hot water and steam dispenser with separate boiler Milk-foam steam holder. Scale preventing device.
This item is currently out of stock
You will be notified when this item becomes available.
If you would like to be notified when it is available, please enter your email address below.
This item has been added to your cart! You now have 0 items in your cart.