Zicaffe Zi Dek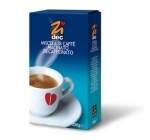 Zicaffe - Zicaffe Zi Dek
Zidec is a decaffeinated ground coffee blend which has superb taste, as it is made with our finest espresso blends. Caffeine content is lower than 0,10%, which allows you to taste this coffee as many time as you please. Daily packaging in vacuum packs guarantees fragrance preservation..
[Size: 250g. (8.8oz.)]
This item is currently out of stock
You will be notified when this item becomes available.
If you would like to be notified when it is available, please enter your email address below.
This item has been added to your cart! You now have 0 items in your cart.