Zicaffe Gustosa ground espresso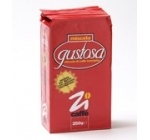 Zicaffe - Zicaffe Gustosa ground espresso
GUSTOSA is a blend with intense aroma and a strong, persistent taste. Thanks to its decisive, velvet taste on the palate, it is particularly suitable after heavy meals and for those who would like to taste real southern Italian espresso.
[Size: 250g (8.8oz)]
This item has been added to your cart! You now have 0 items in your cart.