ZIcaffe' Cinquantenario
New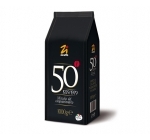 Zicaffe - ZIcaffe' Cinquantenario
Cinquantenario is the top-of-the-range of our espresso blends.The finest Arabica green coffees from Brasil and Central America have been wisely selected, blended and roasted to create this blend. A superb taste and aroma, for an espresso with a dense, homogeneous and persistent froth.
Cinquantenario blend has been certified by INEI (National Institute of Italian Espresso) as a real "Italian Espresso" for the unique taste and aroma.Fragrance preservation is assured by packing warm beans in air proof bags with a special one-way valve
[Size: 1 Kg. Bag]
This item has been added to your cart! You now have 0 items in your cart.