Lucaffe' Piccolo & Dolce Wholebean Espresso Coffee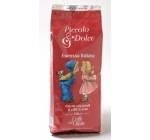 Lucaffè - Lucaffe' Piccolo & Dolce Wholebean Espresso Coffee
***NOTE BEST BY DATE 11/2023** A Mixture of 80% hand picked Arabica sorts from Brazil and 20% Robusta beans from India. Another nice Lucaffe' blend with Northern style mixture of espresso beans nice grounded to be used for American coffee also.
[Size: 1Kg. (2.2lb)]
This item has been added to your cart! You now have 0 items in your cart.