Lucaffe' Exquisit Wholebean Espresso Coffee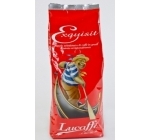 Lucaffè - Lucaffe' Exquisit Wholebean Espresso Coffee
Drinking this rich coffee in the morning will genuinely give you a taste for life. A perfect blend of flavor and aroma made with selected 90% Arabica beans and 10% Robusta.
[Size: 1Kg. (2.2lb)]
This item has been added to your cart! You now have 0 items in your cart.