Lucaffe' Blucaffe Wholebean Espresso
New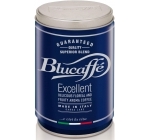 Lucaffè - Lucaffe' Blucaffe Wholebean Espresso
This mixture combines the maximum of passion, taste and the secrets of Gian Luca Venturelli. It is a secret mix of various beans from tropical plantations at high altitude well off the beaten track, where some extraordinary varieties are produced and then brought together in this blend.
Espresso for us is more than a pleasure, it must create an emotion and good memories.
[Size: 250g. Tin 8.8oz. ]
This item has been added to your cart! You now have 0 items in your cart.