Barbera Espresso Casa Ground Espresso Coffee
New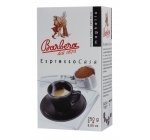 Barbera - Barbera Espresso Casa Ground Espresso Coffee
"Espressocasa" stands out thanks to a special grinding which is particularly suitable for espresso coffee for home use.
The blend is composed of prize quality Arabica coffees and full-bodied Robusta coffees, to obtain espresso with consistent, soft crema, full-bodied on the palate and full tasting.
[Size: 250g. Packet]
This item is currently out of stock
You will be notified when this item becomes available.
If you would like to be notified when it is available, please enter your email address below.
This item has been added to your cart! You now have 0 items in your cart.