Danesi Decaf Whole Beans 1kg. Bags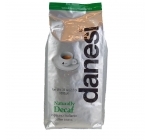 Danesi - Danesi Decaf Whole Beans 1kg. Bags
Danesi decaf delivers the same great quality and taste of a true Italian espresso, but with less caffeine. It has a rich flavor in perfect balance with a moderate acidity and full buttery body.
[Size: 1Kg. Bags]
This item is currently out of stock
You will be notified when this item becomes available.
If you would like to be notified when it is available, please enter your email address below.
This item has been added to your cart! You now have 0 items in your cart.