Danesi "Gold" Tin (ground)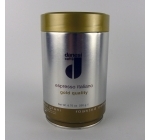 Danesi - Danesi "Gold" Tin (ground)
Danesi Gold is blended to savor a rich and mellow coffee. With its sweet honey and caramel flavor, it combines green beans selected from Latin America, Africa and Indonesia. Slowly roasted, it produces a graceful taste and a long lasting aromatic finish. The well balanced acidity is ideally combined with a rich and silky texture body.
[Size: 250g (8.8oz)]
This item is currently out of stock
You will be notified when this item becomes available.
If you would like to be notified when it is available, please enter your email address below.
This item has been added to your cart! You now have 0 items in your cart.